Laughs and Lagers; Lads on Holiday in Corfu
Me and eight others went on our annual lads holiday recently to one of the most popular clubbing destinations in Europe, Kavos, on the island of Corfu in Greece.
We got off to a dramatic start, when I nearly missed our 3.45am Gatwick Flyer, and the drama wasn't about to finish there. After a bad bout of travel sickness on the flyer, I checked in at the airport with my friends only to find that we had an astonishing 8.5 hour delay on our flight, which then became a 9.5 hour delay due to a problem with a wheel on our aircraft.
Even though we arrived at the hotel at midnight, we dumped our suitcases in and headed straight out onto the strip to use up what energy we had left. Thankfully our bad luck stayed in Britain because we discovered our two favourite bars on the long, thin strip on that first night.
Rolling Stone was a euphoric bar playing a mixture of pop, indie and cheesy classics and serving lethal cocktails. It also had a great indie club at the back of the bar which played indie classics and recent hits. This was by far my favourite club in the whole of Kavos as I am a huge fan of music in general but especially the indie scene. We also visited Atlantis on many nights, a club which was set by the sand amongst palm trees. Atlantis played an enjoyable mix of all the current chart favourites. We would watch the sunrise over the sea as the club was open until 7am. It was an experience which I doubt I'll forget for a while.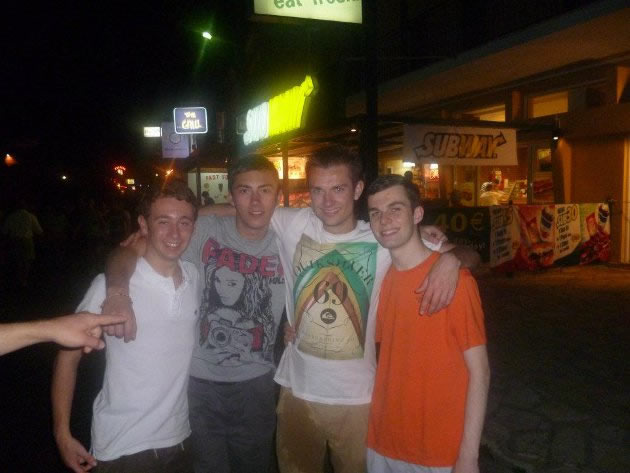 Food was high on the agenda in Kavos, as it should be on all lads' holidays, and despite my slim figure I like to see mountains of food on my plate! We enjoyed a great cooked breakfast at our hotel, Lemon Grove Apartments, nearly every morning, which wasn't to be argued with at two and a half Euros! We went to a different restaurant every evening, including a Chinese/Indian (or 'Chindian' as I dubbed it) and sampled foods from all around the world.
The great thing about the menus in Kavos is that they are almost endless. You can get anything from traditional English cuisine to Italian, French, American, and of course Greek. I enjoyed the local moussaka I had one night and also the tzatziki I sampled.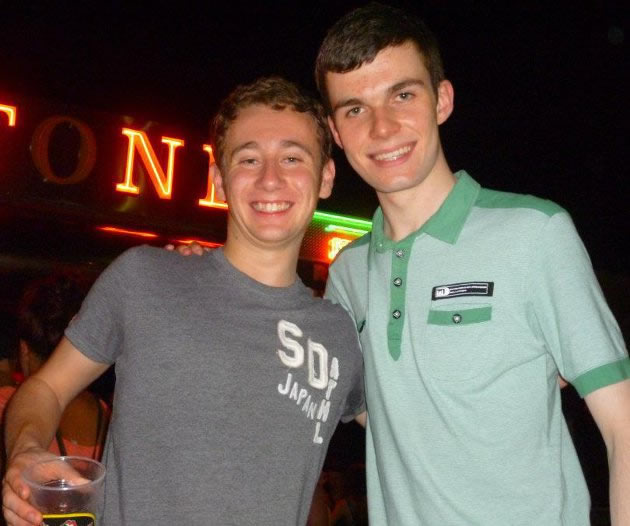 We often visited the sports bar, of which there were a few in Kavos. We went to one in particular which had games consoles, computers, pool tables, bowling lanes and of course flatscreen TVs and although it may not sound that appealing to you, it is a lad's paradise on holiday. We watched a couple of Euro 2012 games there whilst enjoying a local Mythos beer and played plenty of pool, which was pretty much a perfect evening for me. If only I could do that every day!

Image by Glenn J. Mason
Of course we did plenty of lazing around and throwing a volleyball at each other in the pool and my personal highlight was relaxing on a pedalo out to sea, three men in each boat. Instead of enjoying the scenic views we invented our own game of 'chase the flip flop', a simple but fun game whereby you race your pedalo to someone's stranded flip flop which had been thrown far out to sea. It should be made into an official sport.

Image by Steve Wilde
We woke up at around 9.45am on our final day, which was naturally the earliest we had got up the whole holiday and we had the sad task of packing to go home.
There was just time for one last drama whereby three of our friends who were staying at a separate hotel almost missed the minibus back to the airport, but they arrived with less than a minute to spare. Our flight left on time and we crashed out after what had been a great holiday full of laughs, laziness and lagers!