Before we all get carried away with the hype, before we show the blind nationalistic optimism that leads us to believe England can win any competition, from the Eurovision Song Contest to the Booker Prize, that we see fit to enter, let's take a downbeat look at the Brazil World Cup. PETE BELL tries to keep a lid on the mounting excitement, and tells you what expect when you get there.
Get your spray tan topped up, tend to your bodily hair and sort out your samba skills because we're off to Brazil for the World Cup.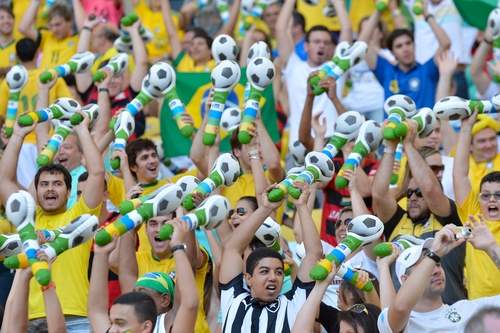 Do not let your country down. Let's not match our reputation of being a bunch of pasty faced nylon-clad losers (The fans, not the players, they're a bunch of perma-tanned, nylon-clad losers).
Apparently the Brazilian FA has come up with the phrase "All in One Rhythm" as a World Cup slogan. They'll see the error of their ways as soon as we England fans attempt something as simple as conga.
But let's try and represent our country with a little style. If your England shirt is under as much pressure as a Somerset riverbank, you should probably get a bigger one – they go up to XL, you know.
Do not wear socks and sandals, trainers and black socks, loafers and white socks… In fact leave the socks at home. You won't need them were you're going.
Remember when you're hitting the Copacabana beach that it takes a very special man to carry off the Speedos and gold chain look. And that very special man probably isn't you.
And ladies, you may have seen pictures of thong-wearing, frolicking Brazilian Beauties, but it's probably not a great idea to emula
te them. If you have to ask the "does my bum look big in this?" question, it probably does.
Remember not to drink caipirinha's at the same rate you drink lager. Knock back five of them and you won't even be able to see the match, let alone remember what happened.
We drink differently, we dance differently and we look different.. Brazil and England are very different nations.
They have massive sun-soaked carnivals attended by the beautiful and scantily clad. We have car boot sales and Morris dancing.
Brazil's manager is Big Phil Scolari, a brooding man with the air of Tony Soprano. England's manager is Roy Hodgson, a medium-sized, gentle fellow, with the air of Mr Barraclough from Porridge.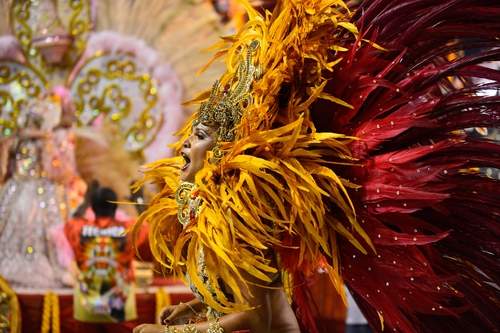 They had Pele, we had Carlton Palmer.
They had Carmen Miranda we had Barbara Windsor… You get the idea.
Our squad will be based in Rio, although none of our group stage matches are there.
First up, on June 14, is England v Italy in Manaus. If you're based in Rio too, it's an 1800 mile trek. It's not that far – just about twice the length of Britain.
You will probably be flying. Manaus is in the middle of the rainforest and tricky to get too other by plane or boat. While you're there it would be ridiculous not to check it out. But don't just head out on your own like Gazza on a boozy fishing trip. Organise a tour so you'll be safe from the jaguars and cougars that are the Manaus equivalent of the rats and pigeons you might expect to encounter after watching a match in England.
If you managed to retain a taste for the game after a possible mauling by the Italians, it's time to head off to Sao Paulo for the equally tough tie with Uruguay.
Sao Paulo and Rio are rival cities. I've never met a Sao Paulan who doesn't run down Rio and vice versa. A bit like Manchester and Liverpool, but with more glamour.
Sao Paulo is Brazil's biggest city and that's saying something – they love a big city in South America. Around 11 million live there – think a sexy version of London with a few more people crammed in.
Try to stay for a day or two and check it out – it's got everything from old Portuguese colonial buildings dating back to the 16th century to the most space-age skyscrapers you could imagine. And there are enough bars and restaurants to drown the biggest of sorrows or feed the best of celebrations.
Then it's off to Belo Horizonte for the one group match we can be reasonably confident of winning, the one with Costa Rica. Belo is a similar distance from Rio as Sao Paulo, about 250 miles.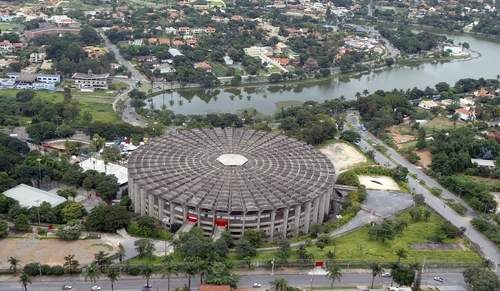 It's still massive, with around 2.5 million inhabitants, but is easier to get to grips with than some of the ridiculously large cities. It's great for music, theatre and museums so if this is the place where we crash out of the World Cup, at least there's plenty to take your mind off the…
Take your mind off the… I don't know, let's just say the miserable failure of our overpaid, lazy primadonnas who don't deserve to wear the England badge and have let down thousands of supporters who have spent their life savings travelling half the way around the world to support them. Or something like that.
Having said that, if we can pick up a point from the Italy game and go into the Uruguay match with a bit of confidence, we might even win the group. Then in the knockout stages it's all about what happens on the day.
I reckon we've got a chance of winning it, you know. Aaaagh! It's happened again.
| | | |
| --- | --- | --- |
| | | Pete Bell is an experienced travel writer and editor, currently Deputy Travel Editor at The Sun, when it comes to travel he is certainly a man in the know. As well as his five years plus experience on the travel desk he has worked for The Sun as a reporter and across features. A cheerful but adaptable chap Pete has over ten years' experience as a lobby correspondent, worked as a regional TV reporter and has experience as a comedy writer and news reporter. |