Top 10 Holiday Spots in Turkey
With its beautiful beaches, mountain backdrops, affordable five-star resorts and sunny climes, Turkey makes a great choice for a holiday! Also renowned for fantastic food – delicious mezzes, fresh vegetables smothered in olive oil and succulent cuts of delicately spiced meat, Turkey is a journey for more than one of the senses. Whether you want to lounge around in a plush all inclusive resort, go on a culinary adventure or simply explore the landscape on your own terms – expect to be charmed.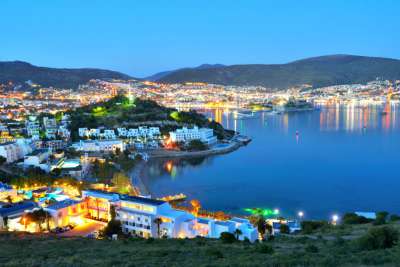 1

Bodrum

One of Turkey's uber-cool holiday spots, Bodrum is a delectable blend of golden beaches, boutique hotels and modern clubs against the more traditional whitewashed backstreets and quaint local cafes. The glistening yacht-lined marina adds an air of sophistication and overlooks the majestic Bodrum Castle. When you're not whiling away the days on the beach, you'll be sipping cocktails at one of the swanky bars or tucking into tasty fare.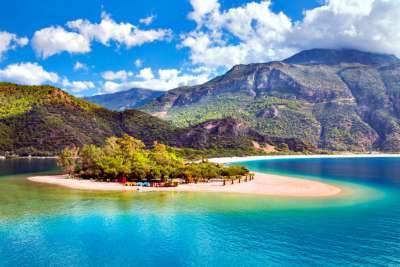 2

Olu Deniz

With a setting lifted straight off a postcard, Olu Deniz has a long stretch of sandy beach beside a lush, hilly national park. Beach bums can't go wrong here and the scenery makes a stunning background to lazy days by the sea. However, the area also attracts adrenaline junkies seeking outdoor pursuits - its multiple mountains make Olu Deniz one of the country's top spots for paragliding.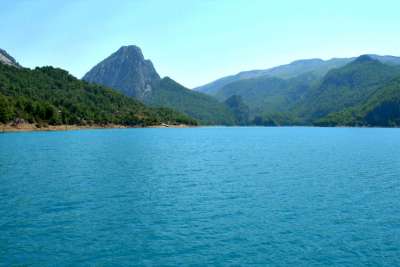 3

Antalya

Stylishly modern yet firmly retaining its Turkish roots, Antalya has an array of top-notch (yet affordable) hotels lining its mountainous coast. The blend of boutique shops and high-rise hotels interweaved with a Roman harbour and cobbled old town make it an interesting choice for a holiday. As well as exploring hidden coves, a boat trip to Duden Waterfalls is a must.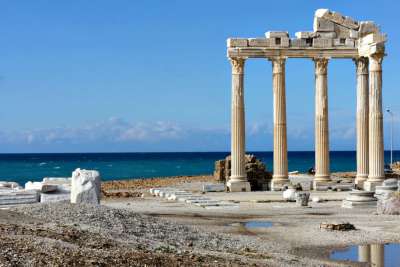 4

Side

If you want to venture into the heart of classical Turkey yet enjoy an added dose of modern luxury, Side's your place! Located about an hour from Antalya on a peninsula of two sandy beaches, beachgoers will find plenty of space. Nearby, the ancient sites are pretty incredible - a huge roman amphitheatre, and the 2,000-year-old Temple of Apollo that stretches out before the sea.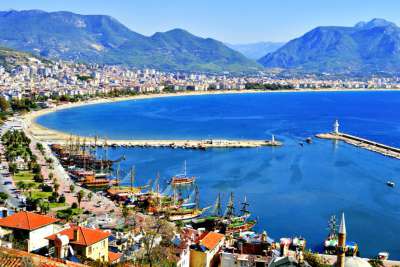 5

Alanya

This medieval city on Turkey's southwest coast is home to two Blue Flag beaches separated by a peninsula and framed by a lush hillside with traditional red-roofed houses. Cleopatra Beach is the more popular of the two and offers up dramatic castle views, but the quieter eastern beach is great for snorkelling, with a range of marine life including eels, octopus and black scorpion fish.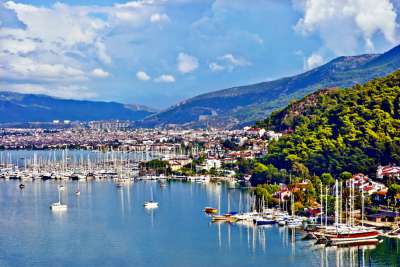 6

Fethiye

Hit by an earthquake in 1958, Fethiye has since risen from the rubble to become a thriving holiday resort. Located on the Turquoise Coast, this low-key destination has some great beaches, an atmospheric old town, a traditional market and a pretty marina filled with yachts. There's also an extensive choice of bars and restaurants, and the harbour is one of the finest in the region with far reaching sea views scattered with islands.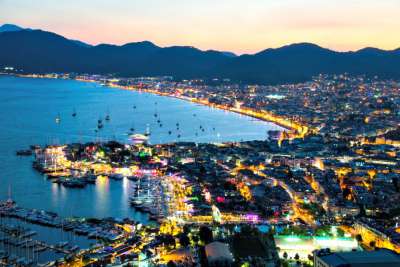 7

Marmaris

Famous for its non-stop party atmosphere, Marmaris aims to cater for all, whether it's a hedonistic break or a soothing beach holiday you're seeking. Large and lively, there's everything you'd expect - a sleek marina, a charming old town, a castle and a huge sandy beach overlooking green waters. When you're not sipping cocktails at one of the open-air bars, take the boat to Sedir Island, book yourself a traditional Turkish bath, and go turtle spotting at Dalyan River.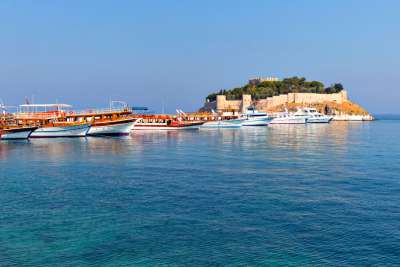 8

Kusadasi

If you want historical sites with modern luxuries, Kusadasi has a gentle blend of old and new. The golden beaches are the highlight during the sun-filled days with the evening bringing a lively atmosphere of Irish Pubs, clubs and traditional tavernas. Weaved within this you'll find cobbled streets and mosques, and the ancient ruins of Ephesus are within easy reach.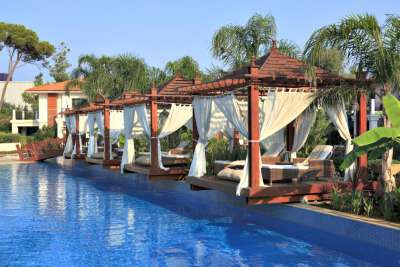 9

Belek

If destinations could be rated five stars then Belek would be sat glittering at the top spot. The trendy resort is the place to be seen on the Turkish Riviera and the beachfront holds a sleek collection of upmarket hotels, world-class restaurants and plenty of surrounding golf courses. Sun yourself on the huge stretch of beach, take your pick from a wide range of watersports, roam the local bazaars and get glammed up come sunset.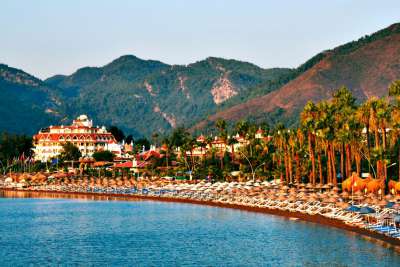 10

Icmeler

The setting in Icmeler is truly stunning. A sweeping bay surrounded by deep green pine forests and dazzling mountains that could be gazed at for hours. A wide shingle-sand beach surrounds the bay and the promenade provides a healthy selection of bars, shops and restaurants. The cobalt blue waters offer views of Keci Adasi island and ample opportunities for divers. The pretty, old village is also just a 15-minute stroll away - don't forget your camera!
Most Popular Top 10s