Clearest Waters in Europe
The idea of dipping your feet into a crystal clear ocean is one many of us associate with far away destinations. The Caribbean, the Maldives, even as far as Australia. Luckily for you, we've compiled a list of the clearest waters in Europe so you don't have to travel as far to make those dreams a reality.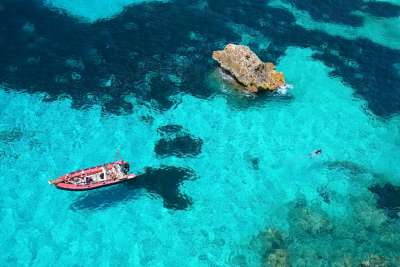 1

Cala Macarella, Menorca

A small cove with brilliantly white sand and crystal clear waters. It's no wonder that Cala Macarella is one of Menorca's most beautiful beaches. Located near the historic town of Ciutadella, this little beach is easily accessible for visitors, however getting there early is strongly advised. Those stunning turquoise waters were never going to stay a secret for long now were they?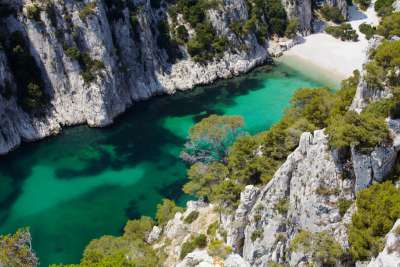 2

Calanques d'En Vau, South of France

On the stretch of coast between the cities of Marseille and Cassis there are many hidden coves, and one of the most beautiful of these is Calanques d'En Vau. With no boats being allowed to enter the cove and no amenities for visitors, this little spot seems to keep pretty quiet, as well as very clean. This lack of tourism is reflected in the cove's perfect waters which are splashed with several amazing shades of blue.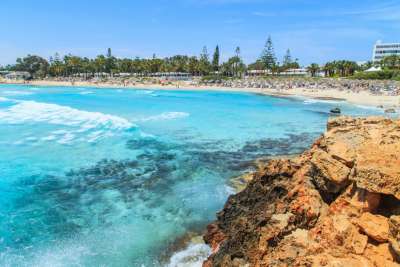 3

Nissi Beach, Cyprus

Nissi beach in Ayia Napa may seem like an odd choice when talking about beautifully clear waters. With its party reputation many wouldn't expect this Cypriot resort to have one of the island's best beaches, but it really does. Not only is Nissi one of the idyllic beaches here, but it is also one of the liveliest beaches, so after a dip in that crystal ocean why not join in the fun? If you're visiting in peak time, then you'll be sure to come across a few beach parties!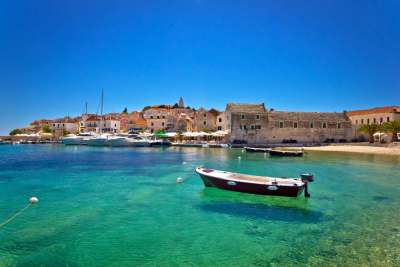 4

Primosten, Croatia

Once a quiet fishing village, Primosten is now one of the most popular resorts in the Dalmatia as well as one of the most picturesque small towns on the Adriatic. Its narrow streets and compact houses in the Old Town add a lot to the island's charm, but its gorgeous unclouded waters are what strike us the most about this little town.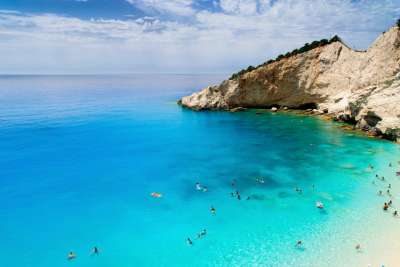 5

Porto Katsiki, Lefkada, Greece

One of the most beautiful beaches in Greece, Porto Katsiki owes its fame to its stunning landscape and mainly, its crystal clear blue sea. Located in the Ionian ocean, the beach is surrounded by steep cliffs, making accessibility a little challenging due to the 80 descending steps to reach it. Early summer is the best time to visit to avoid the crowds.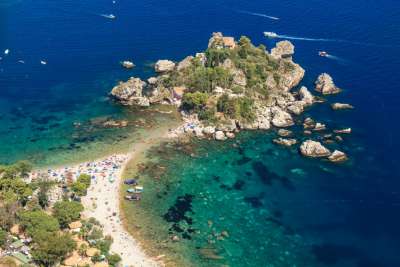 6

Isola Bella, Sicily

Isola Bella is a little island and nature reserve attached to Taormina by a narrow stretch of sand. Most famous for its brilliant clear waters with several shades of blue, Isola Bella is without a doubt Taormina's most beautiful beach. The town itself is well-known for Teatro Antico di Taormina, an ancient Greco-­Roman theatre still used today. It's worth a visit even if it is just for the stunning Mount Etna backdrop towering over the glistening ocean.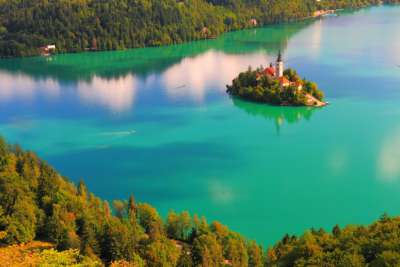 7

Lake Bled, Slovenia

By far Bled's greatest attraction. In fact, the whole town is centred around the famous lake and its exquisite shades of blues and greens. One thing that does surprise many, however, is just how crystal clear parts of the lake really are. Rent a boat during your stay, or even go diving. You'll be sure to see plenty of fish in these gorgeous clear waters.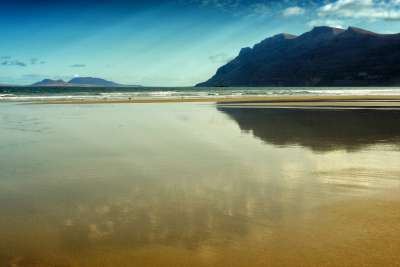 8

Famara Beach, Lanzarote

Most beaches with shining clear waters are associated with peacefulness and relaxation. However, Famara in Lanzarote couldn't be further from tranquillity. Despite having super see-through water the small fishing village of Caleta de Famara has achieved worldwide fame not as a luxury resort, but instead as a surfer's paradise. Far removed from the hustle and bustle of the rest of Lanzarote, it's a great place for active beach lovers!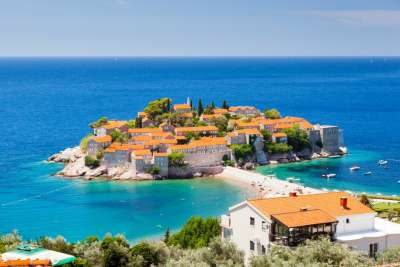 9

Sveti Stefan, Montenegro

Crystal clear turquoise waters, pink sands and a backdrop of pine forests and mountains make Sveti Stefan a very special place. Unfortunately, the islet of Sveti Stefan and some of the better beaches here are privately owned, but this doesn't mean you can't gain access. For a small fee and without having to pay an extortionate amount for the resorts themselves you can spend the day on most of these beaches.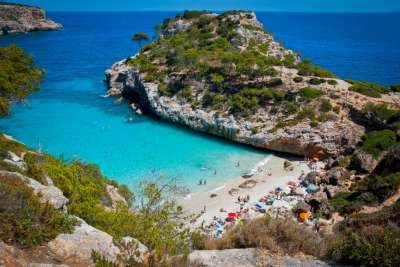 10

Calo des Moro, Majorca

Beautiful surroundings and amazingly see-through waters that are safe for swimming make this beach in Majorca one of its finest. Sure it can get a little busy but if you arrive early enough getting a good spot should be no trouble at all. The cove itself has no services so bring along a picnic and enjoy the views of the idyllic blue waters whilst sinking into the powder-like sands.
Most Popular Top 10s