With so many beautiful beaches on such a small island, it's difficult to know which ones to visit when planning your Zante holiday. Here we've compiled a list of our top seven beaches to help you with those tough decisions. From turtle spotting and walking trails, to snorkelling and exploring caves, Zante's beaches have plenty of possibilities!
Navagio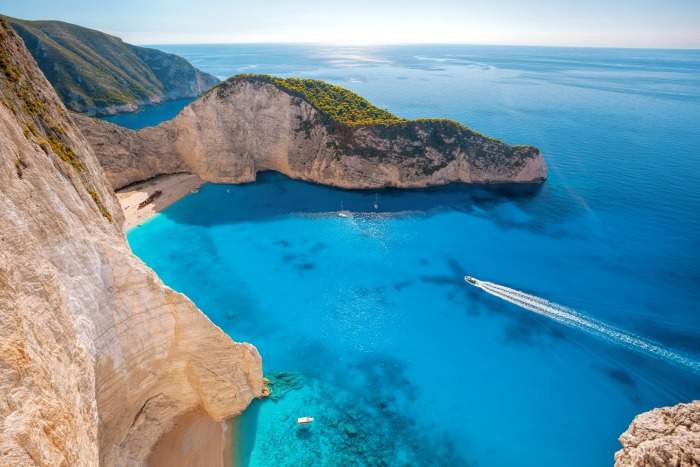 Also known as the Shipwreck beach and Smugglers Cove, Navagio beach is definitely Zante's most famous. The shipwreck ended up here after a stormy night in 1980 and has remained ever since. Access to the beach is via boat only, but that means a great view from the water of the famous ship set against stunning limestone cliffs, bright white sands and clear blue waters. With no shade at all on this beach it is recommended to visit either early morning or after 3pm. You also avoid the crowds at these times too!
Agios Sostis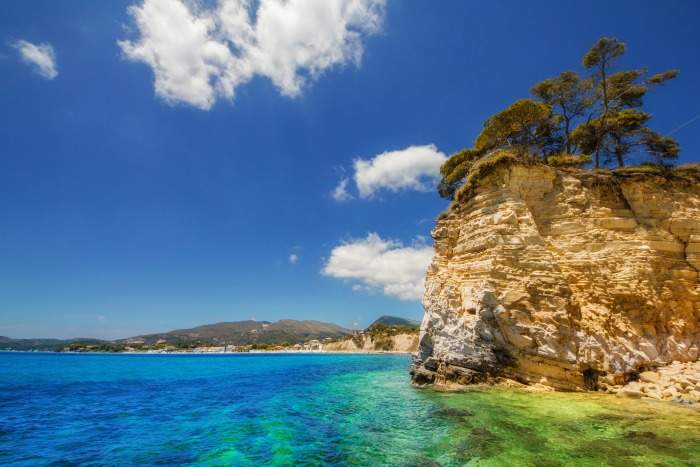 The next bay along from lively Laganas is the beautiful, and not very busy, Agios Sostis with its powder white sand and crystal waters. Just off the bay lies the small and uninhabited island of Marathonisi, known to many as Turtle Island. It is known by this name as so many turtles come to lay their eggs here, but also the island is said to be shaped like a turtle. Because the area is protected no watersports take place around Agios Sostis, instead it's a place for pure relaxation.
Dafni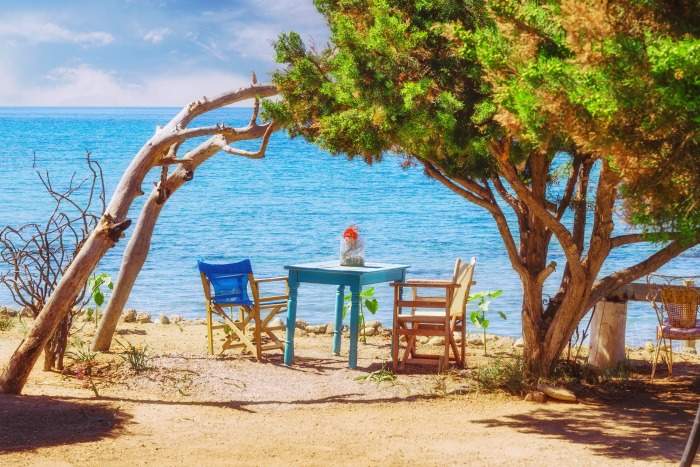 Part of the National Marine Park, Dafni is a protected beach along the south-western coast of Zante. It's protected due to its turtle guests laying their eggs, which means this beach is particularly popular with snorkelers hoping to catch a glimpse of these cute little creatures. With a bumpy ride expected and no development at all on the beach, Dafni is very much off Zante's beaten track. The small islet of Pelouzo located just off the beach is out of bounds to tourists but provides some fantastic views.
Gerakas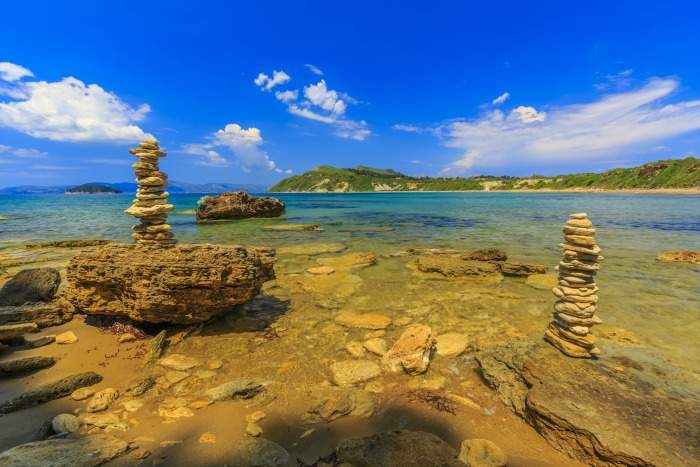 Described as one of the most beautiful beaches on this small Greek island, Gerakas is long with excellent white sands. Part of Zakynthos Marine Park, through the months of May to October getting here bright and early can mean a chance to assist with the hatching or turtles. Other reasons to visit include the beach's fantastic walking trails through the woods and the amazing limestone and sand cliffs.
Porto Vromi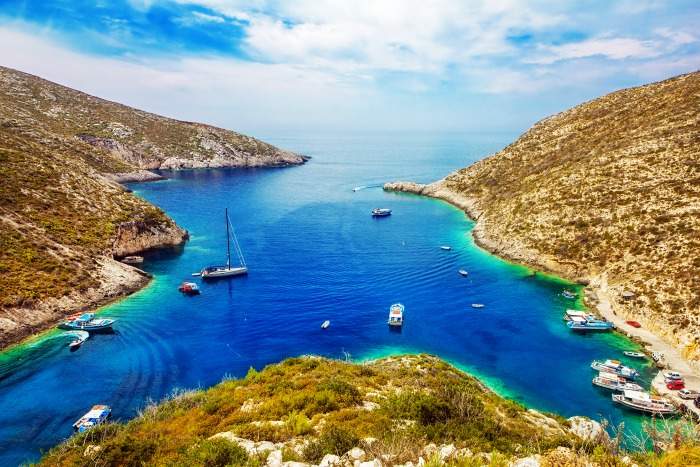 OK, this isn't a beach, but the main port for many Zante's boat trips. Getting its name from the natural tar that oozes from the rocks, Porto Vromi is a place full of Greek myths and legends. And it's limestone cliffs form a natural harbour for small boats. Boat trips will take you to look at sea god Poseidon's face carved into the rocks and to view the stunning Blue Caves. Boats and pedalos are also available for hire for visitors to explore by themselves.
Xigia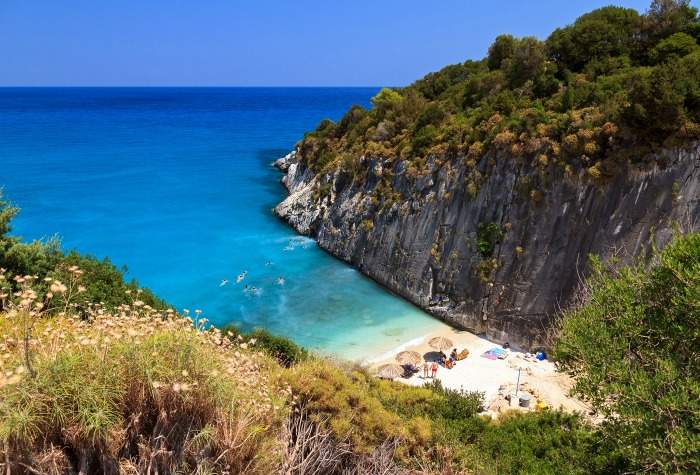 You may well smell this beach before you see it, but don't let that put you off! Xigia is famous for its natural sulphur and collagen filled waters which allow guests to float around in the sea and just relax. Said to be great for skin and general health, many come to visit this stunning Caribbean style beach set between some of Zante's impressive cliffs. The beach itself is pebbly with smooth, white stones and although there are no amenities on the beach, there are plenty of tavernas around the area.
Porto Roxa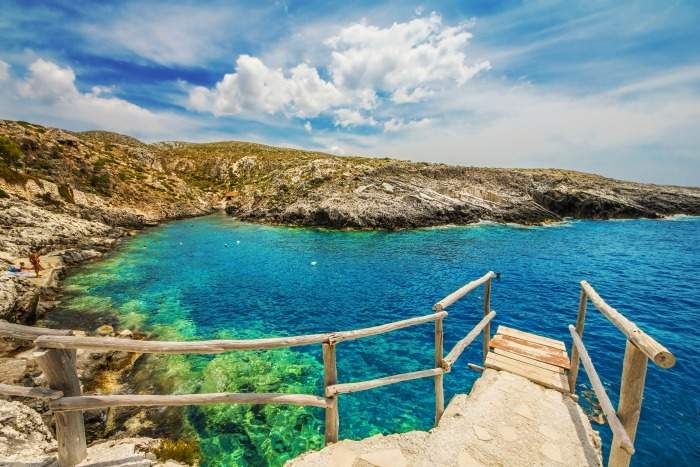 Porto Roxa is a small crystal clear bay located near Limnionas and the village of Agios Leon, and is a great place to swim. Deep waters and caves make the bay a great spot for snorkelling enthusiasts and a high diving board above the sea is a permanent fixture for those thrill-seekers! A traditional Greek fishing boat is often seen to be moored to the rocks, giving this quiet little bay a very 'Greek' feel to it.
Tempted to explore Zante's beaches yourself? We can help you find a great deal on Flights | Holidays