Places to Keep Cosy this Autumn
Autumn has finally arrived, and while most are already missing that summer sun, at dealchecker we're looking for fun and exciting ways to stay cosy this fall across the globe. Feasting on hearty local dishes, soaking in thermal pools or cuddling up by open log fires, all while experiencing the autumn culture of a new place. We can't think of any better way to wave goodbye to the sunshine…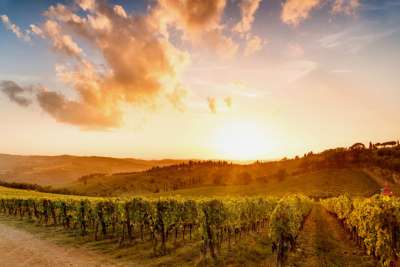 1

Chianti, Italy

Hearty game dishes, pumpkins, risottos and warming soups are just some of the autumnal delicacies you can expect to find over in the Chianti region at this time of year. When you're not busy feasting on traditional Italian food by an open log fire, why not venture out to one of Chianti's many wineries? With fewer crowds, it's a great time to go and sample some of Italy's best wines. Explore the orange-tinted vineyards before heading back to cosy up with your very own bottle...or two!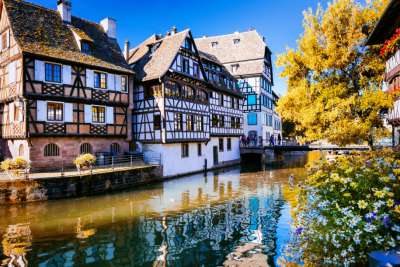 2

Strasbourg, France

Sitting near the German border, Strasbourg has pulled inspiration and influences from both France and Germany, creating a quaint little city that looks like it has come straight from a picture book. With the weather getting drastically colder in the autumn months, visitors will be looking for ways to stay snug, and what better way than by sipping a nice, warm coffee whilst watching the canal boats go by? The French are known for their café traditions and Strasbourg is no exception, so just sit back, relax and stay toasty.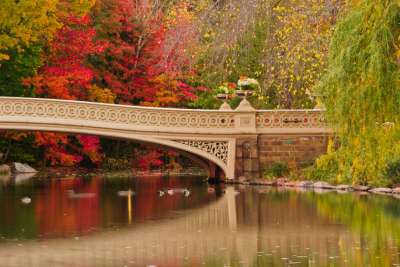 3

New York, USA

There really isn't a bad time of year to visit the Big Apple. However, exploring this city in the autumn just seems to have something extra special about it. Sure, you might need to wrap up a little, but there's something quite magical and almost comforting about wandering through a bronzed Central Park with the leaves crunching underneath your feet. With such a vast foodie scene, you'll have a great choice of places to grab a hot bite to eat afterwards to warm up.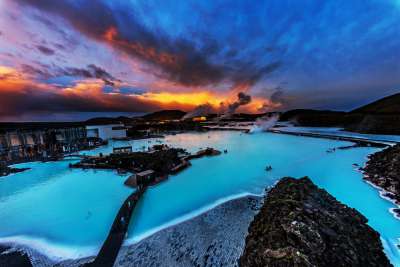 4

Reykjavik, Iceland

As the autumn draws in, so do the shorter days and longer nights here in Reykjavik, but with that also comes the increased chances of seeing the famous northern lights. There are plenty of tours that head out from Reykjavik. However, if you want to keep cosy, why not rent a car and stay snug whilst watching this amazing phenomenon take place? Through the day head to the Blue Lagoon geothermal spa and take a dip in the natural heated pools to beat the autumnal weather around you.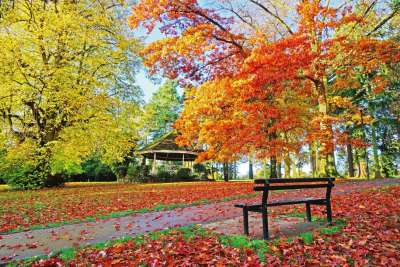 5

The Cotswolds, UK

If you're looking for a romantic autumn getaway in the UK, then look no further than the stunning Cotswolds. Book yourself into a cute little cottage, or a comfortable bed and breakfast overlooking the stunning surroundings. Spend your time wrapped up exploring the colourful walking trails, or maybe rent a boat on a lake and soak up the autumnal scenery around you. In the evening, head to one of the many local pubs and enjoy a drink by a crackling log fire.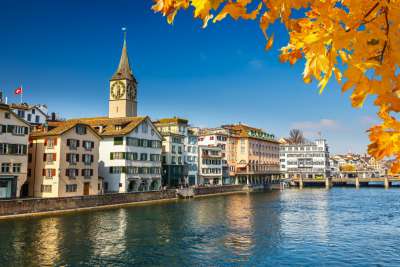 6

Zurich, Switzerland

With the scent of roasted chestnuts drifting through the streets, along with the oranges, yellows and reds of fallen leaves, Zurich really is a magical place to be in autumn. Keep toasty by visiting one of the many saunas, much loved by the locals at this time of year. There are also several cosy cafes to choose from where you can warm up with a tasty hot chocolate. In the evenings, cuddle up and watch a movie screening at one of the city's art-house cinemas and forget all about any drizzly weather outside.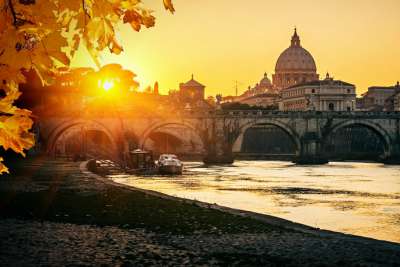 7

Rome, Italy

Rome is a city for all seasons. With stunning sights like the Colosseum, Pantheon and Trevi Fountain, how could there ever be a bad time to visit? Unlike some other destinations, the autumn climate here is fairly mild, making it great for a stroll through Villa Borghese park to soak up the autumnal colours. The temperature will dip a little in the evenings, which is a great time to head into a local restaurant and try some fantastic wines and traditional food. Expect game dishes and lots of fresh truffles at this time of year!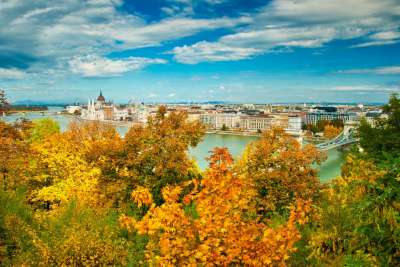 8

Budapest, Hungary

Keeping snug in the autumn couldn't be easier in Budapest. In a city famous for its thermal baths and spas, you'll be able to soak up the crisp autumn air whilst relaxing in one of many heated outdoor pools. If the weather gets a bit too fresh, then there are plenty more baths inside to enjoy. Start your evening with a piping hot bowl of traditional goulash, and then head to one of the ruin bars or wine cellars to escape the cold night air, all the while getting a great experience of true Hungarian culture.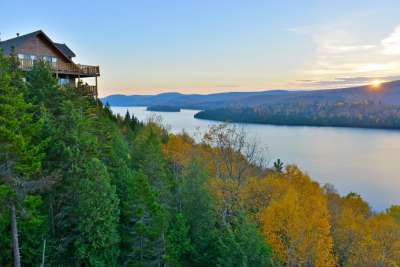 9

Quebec, Canada

With stunning bronzed colours creating the backdrop for this gorgeous city in autumn, Quebec should be high on everyone's list of places to visit in the fall. The weather can get pretty cold at this time of year, but there's lots to do to keep you feeling toasty. Grab a plate of famous poutine to tuck into, treat yourself to a traditional afternoon tea, or head to city hall decorated with pumpkins to celebrate this beautiful season. Park walks and vineyard tours are also popular, but make sure you layer up.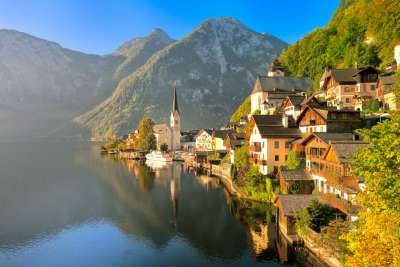 10

Hallstatt, Austria

The highest mountain peaks may already be covered with snow, but the air in Hallstatt is still pleasant and warm come autumn time. From hiking and mountain biking to paragliding and rock climbing, there's lots to do here for the active traveller during the day. But once the sun has set and the fresh evening weather arrives, you can relax in the warmth of one of the many indoor spas or pools before heading out for a comforting drink by an open fire.
Most Popular Top 10s