Beyond Benidorm: 10 Destinations With a Similar Charm
Benidorm is a firm favourite with Brits who flock to this seaside city for creature comforts and holiday delights in the sunshine. Visitors here can enjoy afternoons spent on Playa de Levante beach, test their courage on the rides at Terra Mítica or slip down the slides at Aqualandia. However, you can sometimes have too much of a good thing. Here at dealchecker, we've rounded up an array of destinations which share the same charm as this famed Spanish resort allowing you to spread your travel wings a little further afield!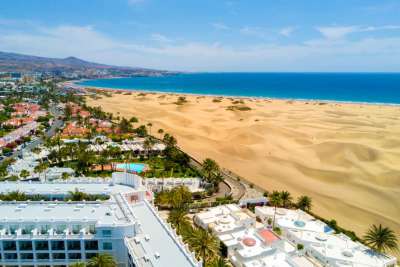 1

Maspalomas

The mountainous island of Gran Canaria in the Canary Islands is home to the resort of Maspalomas. Where Benidorm has a swathe of golden sands, Maspalomas has undulating sand dunes which ultimately slide into sparkling blue seas. This seaside town marries natural beauty with modern delights: you can take a ride on the ferris wheel at Holiday World or brave the vertiginous slides at Aqualand.

Twice a year, Maspalomas hosts its very own Pride events where the streets are adorned with colourful processions and LGBT-friendly nights are hosted across the resort.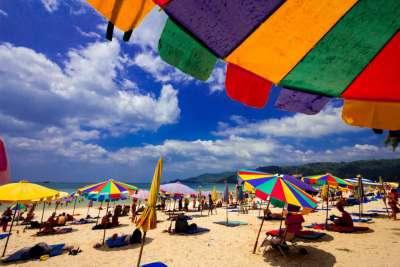 2

Patong

With flour-soft white sands and turquoise waters, the beaches of Thailand often adorn travel brochures and postcards. Whilst it is a far-flung destination for us Brits, you may be able to find more home comforts in this tropical country than you expect. This is true of the resort of Patong on the island of Phuket. The city is famed for its raucous nightlife which centres upon Bangla Road, where revellers can find cheap cocktails, and people dancing into the early hours. The next day you can shake off your hangover with a full English breakfast or attempt to sweat it out with watersports on the beach.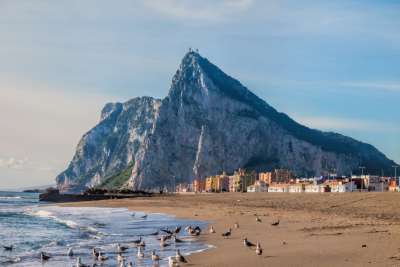 3

Gibraltar

At Spain's southernmost tip sits the British Overseas Territory of Gilbraltar. Whilst its famed for its furry monkeys and rocky terrain, there's an awful lot here to help you feel at home. Red telephone boxes bearing the royal crest litter the state's streets, and you're as likely to find a typical British fry up or fish 'n' chips here as you are to find tapas just across the border in Spain. Gibraltar, however, unlike mainland Britain, enjoys balmy temperatures all year round with highs of 17°C even in December.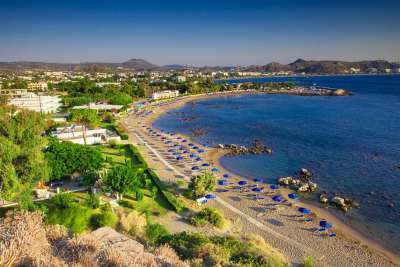 4

Faliraki

Starting out its life as a sleepy fishing village, Faliraki in Rhodes rose to fame in the early 2000s as Brits enjoyed cheap alcohol in these sunny surrounds. However, nowadays things are a little more sedate again. Families flock here to take advantage of the expansive Water Park with its hair-raising slides, and children's splash zones. When you're not dashing down waterslides you can kick back with a good book on Faliraki's blue flag awarded beach.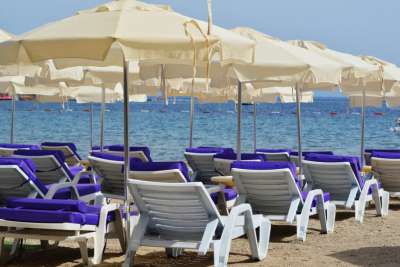 5

Gumbet

The resort of Gumbet, situated close to the city of Bodrum, is a town of two sides. In peak season it is well-known for its bustling nightlife, with bars offering cheap cocktails and pumping tunes to draw the punters in. There are beach-side al fresco dance floors where you can throw your best shapes until the early hours. However, once September hits holidaying here becomes a more sedate affair and your days are more likely to be spent relaxing with a good book on the golden sands of Gumbet's Blue-Flag beach, instead of knocking back the shots!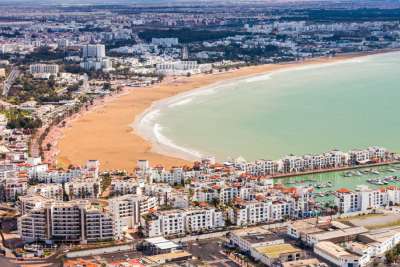 6

Agadir

The thought of holidaying in Morocco may conjure up images of rolling deserts, intriguing souks and tiled palaces: so far, so not Benidorm. However, the sprawling resort of Agadir on the country's Atlantic coast shares a love of laid-back holidays. With over nine kilometres of golden sands you can be sure to find a spot to relax upon with a good book! When you're not beach-bound, head to the park of Vallée des Oiseaux where you can spot flamingos, parrots and kangaroos!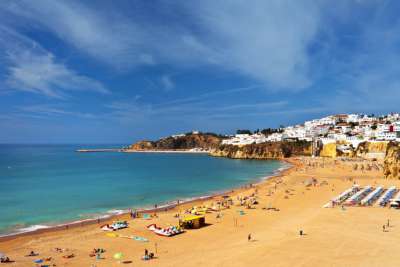 7

Albufeira

The golden coastline of the Algarve is a firm favourite with Brits who flock here throughout the year for the dreamy beaches and almost perennial sunshine. Albufeira is the biggest resort here and offers up all the creature comforts that you can expect from a large holiday destination. The resort has a vibrant nightlife, you can choose from a pint in one of the pubs here or dance 'til dawn in a nightclub - there's something to please everyone! Sore heads and bleary eyes can all be soothed come morning with a dolphin watching tour from one of the many companies operating out of the marina.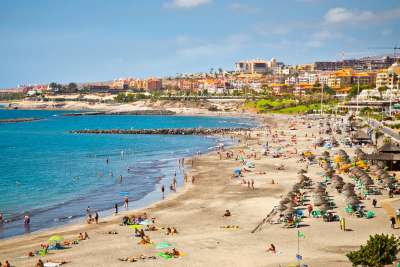 8

Playa de las Americas

Playa de las Americas is Tenerife's most famed resort, and is a destination that allows you to unleash your inner big kid! The beaches here sport golden sands, and you can try your hand at jet skiing and windsurfing in the clear, blue seas. Away from the beach you can slip down the waterslides at the Siam Park, gaze in awe at the animals at the Loro Parque Zoo or try and get a hole-in-one at the 18-hole golf course at Golf las Américas. The fun needn't stop when the sun goes down either, there are a wide array of bars and pubs to find your favourite tipple in.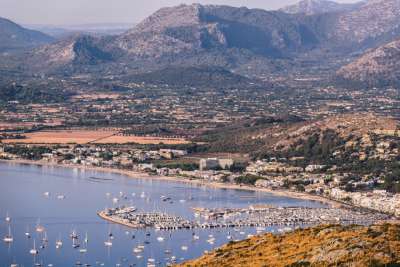 9

Puerto Pollensa

Whilst Benidorm might buzz with noise, the seaside town of Puerto Pollensa in Majorca offers a more sedate affair. Here, petite seafood restaurants look out over the sea, and the golden sands of the beach are fringed by a strip of pine trees. There are playgrounds studded along this strip of greenery meaning that both children and adults alike will enjoy an evening stroll. Those looking to try out a new activity abroad will leap at the opportunity to rent a paddle board, and wade out to sea!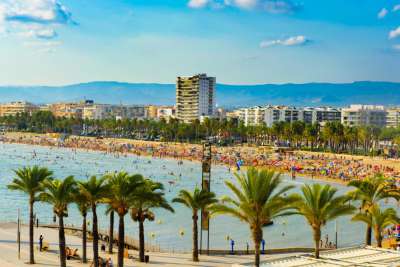 10

Salou

Salou, just along the coast from Barcelona, offers welcome respite for families whose children straddle the difficult age gap between eager youngsters and grumbling teens. Young kids will adore the chance to build sandcastles on the golden sands of Llevant Beach, whilst older ones will be rushing to Portaventura where hair-raising rides will see them whizzing through the air. Whether you are travelling with a family or not, you'll be struggling to stay away from the wave pool at the Aquatic Park on Salou's hottest days!
Most Popular Top 10s