Colombia has made it onto the itineraries of adventurous travellers everywhere over the last few years – its colourful, convivial cities and lush, wild landscape make it the perfect place to explore with just a backpack. Hostels are usually the cheapest and most convenient accommodation for this kind of trip, and sometimes they make for unmissable experiences in themselves! Dealchecker Megan recently returned from travelling around the country; here, she tells us about her top four Colombian hostels that look almost too good to be true!
Casa en el Agua is the kind of hostel you see in an online article and you question whether the place exists, or if it is fake and only pops up to make you miserable that you're not on holiday. I can now confirm that it exists! And it is without a doubt the most glorious place that I have ever stayed. Actually, glorious is perhaps the wrong word – you manually flush the toilet with a bucket of water, there is no clean water from the taps, and my bed was a hammock. Even so, this is easily the number one place I've spent the night.
Casa en el Agua is exactly what its name suggests: a house on the water. This little gem lies in the Caribbean Sea, a two-hour boat ride from colourful Cartagena. The house on the sea is surrounded by beautiful blue water, dozens of starfish, hammock beds and fresh fish for dinner. When it gets dark you can jump in the ocean and experience bioluminescent plankton illuminating all over your body; as soon as you move the plankton lights up and glows in the dark (I wish I could explain how or why). During the day you can hop off the deck into the water with a snorkel, kayak or paddle board, or just soak up the rays on the decking. It is undoubtedly the best £18 I have ever spent.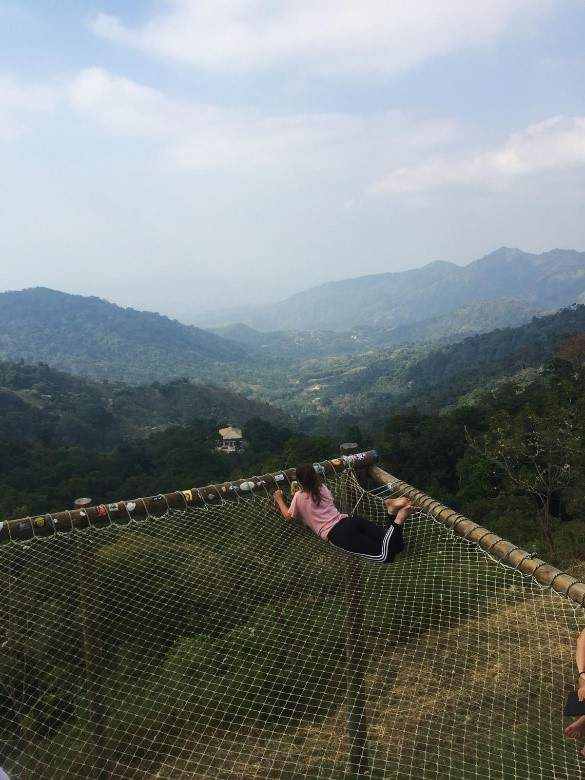 From a house on the water to a house in the sky! This hostel is also a definite must-see. Situated in Minca, a village in the mountains, it was a good place to detox after all the Colombian fiestas I had from Medellin to Santa Marta over the previous two weeks. It claims to have the largest hammock in the world, upon which you can chill out, listen to the birds sing, meet new people and lastly, get your perfect shot for the 'Gram.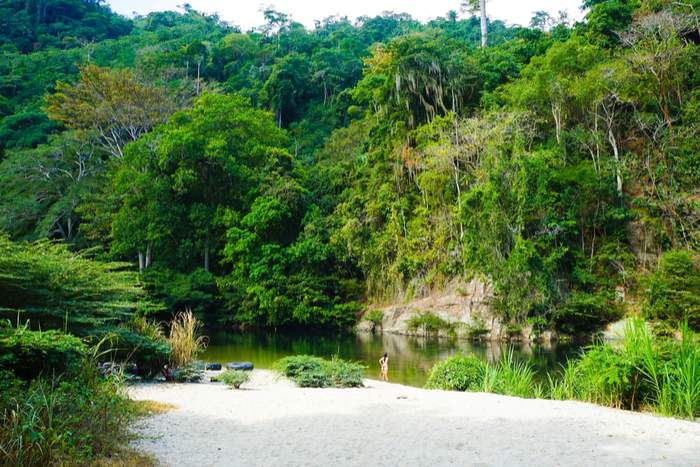 Even though I have put this hostel as number three, it was voted best in Colombia and number two in South America by Hostelworld last year. To get there, you hop on a motorbike taxi (it costs less than a pound) that takes you down a dirt track located 100m from the Rio Buritaca bridge, where you enter this magical festival-like hostel. We went on Valentine's Day and there was a huge party from 8pm until 8am – and they did not hold back! It probably won't surprise you to hear that a couple of Brits own this hostel… It is clean, comfortable and, as the name suggests (again), is situated by a beautiful river with its own little beach. If I could choose anywhere in the world to recover after a 12-hour party, it would be here.
There's a sign in El Rio as you first walk in that reads: 'no Wi-Fi – disconnect to reconnect'. This is the attitude of all the above hostels; it appears that no Wi-Fi only enhances the atmosphere, who knew!?
This hostel is situated on Costeno Beach – a very peaceful part of the Colombian coast. My oceanfront bedroom for the night was just metres from the waves. Granted, I did feel a bit like shouting, 'I'm a celebrity get me out of here' in the dorm at one point but realised that on the beach there are bound to be little creatures – you can't have it all! The hostel itself is separated into little cabin-style rooms and dormitories where you can find giant Jenga and Connect Four, a dozen hammocks, a bar, a bonfire, and a nice restaurant. We spent most of our time here in hammocks, listening to the waves with a beer in hand – personally, I could not think of a better way to finish my little Colombian adventure.
Want to experience these extraordinary hostels for yourself? Take a look at our Holidays | Flights | Hotels